Monday, August 24, 2009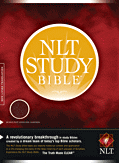 I am pleased to report that this fall the NLT Study Bible will be available in Smyth sewn, genuine leather bindings (
black
and
burgundy
). I have always preferred sewn bindings and genuine leather covers for their durability and beauty. Most Bibles by most publishers are glued, and the glues have gotten quite good. But a sewn binding is still more durable than a glued binding, and Smyth sewing is the highest quality sewing process -- it uses durable binders' thread and creates a lie-flat binding that can last for a long, long time. For instance, the Smyth sewn, genuine leather NASB ultrathin reference Bible that I bought in 1987 and used daily for over 10 years is still in very good condition. I would expect that the Smyth sewn NLT Study Bible should be a very durable, high-quality product as well.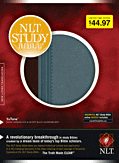 In addition to the genuine leather editions of the NLT Study Bible, there are two new "LeatherLike" bindings,
chocolate/chocolate
, and
chocolate/dusty blue
. My personal copy of the NLT Study Bible is the chocolate/tan binding that was so popular last year, and it has served me well. The LeatherLike covers that Tyndale uses are very nice, with a good tactile feeling (and perhaps even a hint of real leather scent? I might be imagining it...).
While we're talking about bindings, what bindings of the NLT Study Bible are you most interested in seeing? Please let me know in the comments!
posted by Sean Harrison at 8:51 AM